Top 10 Best Camera Gimbal stabilizers for DSLR and Mirrorless Camera In India (2021) with complete buying guide. 
Gimbals are specially designed video stabilizers that help you to create shake-free and focused videos. It doesn't matter if you are a professional filmmaker, newbie blogger, or an aspiring youtube artist you must be looking for high-quality content, and for creating that content videos you will be needing the best gimbal stabilizer for DSLR and mirrorless cameras in India.
The most challenging thing while filming a video is to keep the camera stable and it cannot be done by hands. This is when the best gimbal for DSLR and mirrorless camera comes in.
Many people don't know what exactly to look for that is why we have mentioned a quick buying guide with FAQs related to gimbals so it will give you an idea of how to select the best gimbal for DSLR and mirrorless cameras in India.
We have shortlisted the best gimbals for your DSLR and Mirrorless Cameras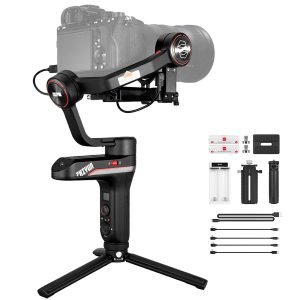 The first on our list is Zhiyun Weebill S. This gimbal supports almost all major brands and models for DSLR and mirrorless cameras. It is a 3-axis handheld gimbal which is one of the best gimbal available.
Product Key Features
Zhiyun Weebill comes with the latest motor for high precision and algorithm, which improves the motor torque by 300% and torque by 50%.

The Zhiyun Weebill S has the popular two-in-one quick release plates. The Manfrotto and the Arca -swiss, which helps in achieving easy setup with fast transition between equipment without any need of rebalancing.

With 1080 30 fps and ultra-low latency transmission of 100 meters, the professional monitoring and live stream becomes very easy.

To save your time and increase your creativity and productivity, the Weebill S offers an instant gimbal setting and 6 shooting modes.

The advanced 8th instune algorithm provides better stability and eliminates shakiness in images in a fast-moving environment also.
Next on our list is Zhiyun Crane 3 which is a 3-axis handheld gimbal for DSLRs and mirrorless cameras. It offers versatile structure, touch control and offers a payload of 4.6 kilograms which can handle heavy lenses and attachments.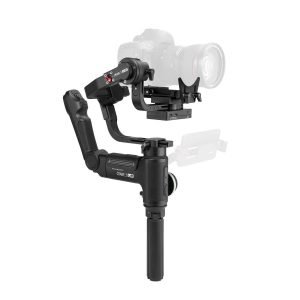 Product Key Features
Capable of handling a load of up to 4.5 kilograms.

Compatible with almost all DSLR and video lens available in the market

It has a versatile structure briefcase/sling mode and crafted latch design.

Up to 1080, Pixel image can be transferred using the FHD image transmission app

The via touch control system enables all users to take care of all detail on your phone screen. Many different kinds of gimbal movements and camera sets can be performed using this feature.

Crane 3 is equipped with both focus and zoom modules, which allows synchronous zoom and focus adjustment with the help of tactile wheel or touch screen of mobile phone

It requires 3 lithium-ion batteries to operate.
DJI is a name in the field of photography-related equipments which you can trust blindly. This gimbal supports multiple brands. It offers a payload of 3 kilograms and 3-axis stabilization. Special features include vertical shooting and an OLED screen.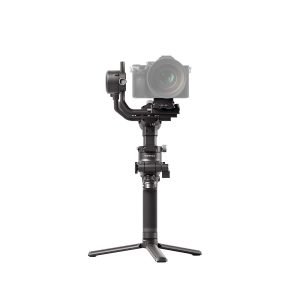 Product Key Features
DJI is a renowned name in the market of camera accessories and its RSC 2 design is an amazing addition to the best gimbal for DSLR in our list.

The weight of this particular model is 2.24 kgs.

It has a foldable design that makes it smaller than an A5 sheet of paper for better portability and storage.

The titan stabilization algorithm captures smooth video footage and compensates for micromovements and increases the torque even to stabilize 100 mm zoom lens.

The 1-inch inbuilt OLED screen gives complete control at your fingertips.

2 plating system the Manfrotto and the Arca dual-layer camera mounting places which are compatible with almost every brand helps you to switch between portrait mode just with a tap to provide you a professional-grade footage for your social media content.

The Lithium-ion batteries are rechargeable and the brand claims the batteries to last for 14 hours.

App connectivity for iOS 11.0 and Android 7.0 or above.
Another good product from DJI. It offers a complete 360-degrees rotation and comes with a focus motor rod mount, focus wheel, and focus gear strip.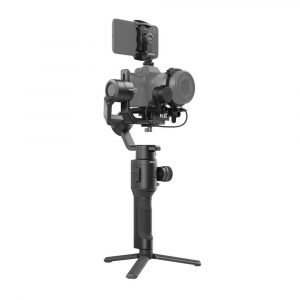 Product Key Features
Another lightweight gem from DJI with just 1.1 kgs of weight this is one of the best gimbals available in the market for DSLR and mirrorless cameras.

This is a 3 axis motorized gimbal that helps you in shooting stable and ultra-smooth video footage.

The DJI fly app offers a simple and intuitive user experience to create cinematic shots with just a few taps.

The compact Mavic Mini is perfect for performing quick shot modes such as dronie, circle, helix, and rocket just with the tap of a button.

It also comes with an India-compatible nano drone in which you do not need any flying license.
DJI Ronin SC is a predecessor of DJI Ronin SC pro. This is also a very good gimbal and is still popular among photography enthusiasts.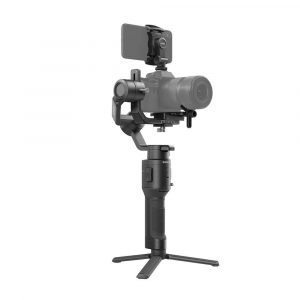 Product Key Features
This is a lighter version of DJI Ronin SC Pro.

The weight of the gimbal is very light and it has a foldable design which makes it pretty compact.

It has a 3-axis mirrorless powerful stabilizer.

The controls are user-friendly and intuitive for shutter and focus lenses for most brands of DSLR cameras.

A complete 360-degree rotation in all directions to provide a complete cinematic view.

The unobstructed roll axis arm elevates the camera payload above all roll axis.

Placement of buttons and triggers are easy to reach for all type of controls.

The flared battery grip makes the extended holding easy and slip-resistant.
Another big name in the gimbal industry is Moza and this particular model from Moza offers so many unique features and good stabilization.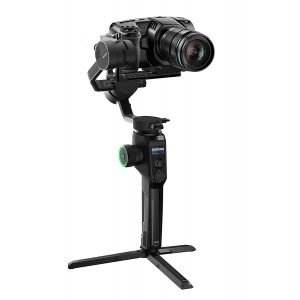 Product Key Features
The weight of this gimbal is only 1.5 kilograms and being so light in weight it provides an excellent boost in performance.

With a payload capacity of 3.2 kilograms, the Moza Air cross 2 supports most mirrorless and DSLR cameras on the market.

It comes with a 1-year warranty.

The 3000 mAh battery gives a backup of almost 12 hours and gets fast-charged within 1.5 hours.

Three Multi-CAN outputs of 7.8 V can provide a power supply to the camera and other accessories.

 The improved inception mode 3.0 allows automatic rotation, speed adjustments, and angle control. No manual intervention is needed.

Smartphone connectivity through an app can independently control and copy the movements from your smartphone. It gives you the ability to adjust the sensitivity regarding the movement of the gimbal.

The Smart Wheel easily controls two follow focus systems and with the help of a camera cable.

Quick switch and control of each axis.

The bright OLED screen gives an intuitive display of the status of gimbal and camera parameters.
Another gem from Zhiyun is the Crane 3S which is more of a professional handheld 3 axis gimbal stabilizer for DSLRs and mirrorless cameras and video cameras. It offers a maximum payload of 6.5 kilograms which is very impressive.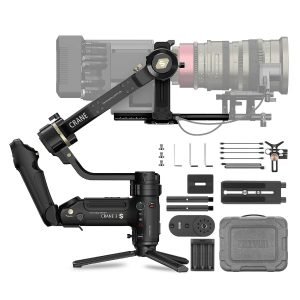 Product Key Features
The weight of this gimbal is 2.47 kilograms.

Super motor allows a max payload of 6.5 kilograms.

Compatible with many famous models used for professional photography.

It gives an extended roll axis with great flexibility.

For large camera combos, it can be attached to an extension module onto a roll axis for more space.

For small cameras and DSLRs, DSLR the extension module can be detached for better portability.

The handle mods are easily separable and provide multiple thread holes of different sizes to mount accessories.

Ensure zero swing and hero compatibility.
This is a gimbal for professional photography. It offers a payload of 4.6 kgs and is compatible with almost all brands of gimbals. Special features include detachable design, lock button, LCD touch screen, and motion controller.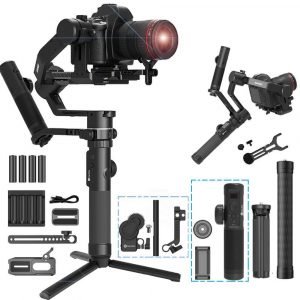 Product Key Features
The weight of the gimbal is 1.6 kilograms.

This is a gimbal specially designed for professional photography.

The max payload it offers is 4.6 kilograms which is pretty good.

Compatible with popular DSLR and Cinema cameras.

You can switch between a single handle, underslung position, and separate hyperlink remote control to use in different shooting scenarios.

The quick-release plate for quick setup comes in quite handy. The bottom plate is compatible with Manfrotto PL501 and the upper plate is compatible with ARCA quick release system.

It has dual USB ports for external follow focus/Zoom in and out button and many other functions.
Another great gimbal from Feiyu Tech with very lightweight and multiple device compatibility. It comes with an OLED screen and wifi/BlueTooth connection with GoPro Hero series for 54-87 mm width smartphones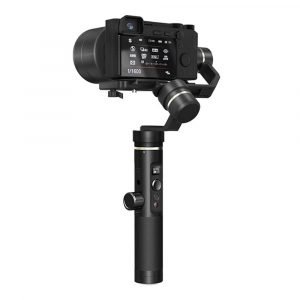 Product Key Features
This is a very lightweight gimbal for DSLR and mirrorless cameras.

The anti-detachable ¼ inch thumb screw design is compatible with action cameras, smartphones, digital cameras,s and mirrorless cameras.

The OLED screen provides information such as battery, working mode, and camera mode.

The 5000 mAh battery provides a good battery backup and also provides power to the camera.

The intelligent follow pre-set route in auto-rotation mode, that matches motion time-lapse or automatic shooting.

The intelligent initialization to automatically check motionless desk and auto-complete.
E-Image Horizon One is an Indian origin brand. This is a 3 axis gimbal stabilizer that offers 360-degrees free rotation.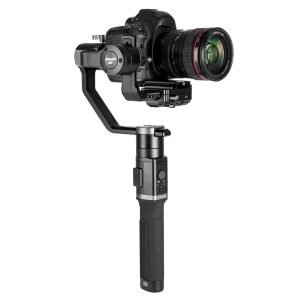 Product Key Features
The weight of the gimbal is 4.69 kilograms.

It can bear a max payload of 3.6 kilograms.

The battery run time is 12 hours.

It can rotate 360-degrees.

Offers quick setup balance within 60 seconds.

Supports almost all DSLRs and mirrorless cameras.
---
Final Verdict:
Every gimbal has its own special features but based on performance and user reviews we have selected DJI Ronin SC Pro as the best gimbal for DSLR and mirrorless cameras.
---
Buying guide for Best Gimbal for DSLR and Mirrorless Cameras
Everyone has their unique set of equipments when it comes to photography, as they all have different goals. That being said a very few people have the idea of what to look for in the best gimbal for their DSLR and mirrorless cameras.
That is why we have highlighted a few points which you need to keep in mind irrespective of what kind of camera you are using.
Important features to consider before buying the Best Gimbal for DSLR and mirrorless cameras in India.
Weight and load capacity
A good quality DSLR camera with all its attachments is itself heavy ranging from a kilo or two in addition to that if you attach a Gimbal to its weight and carry the whole setup it will make you feel tired.
Other than this the balance during the photography also gets disturbed if the weight of the apparatus is high. That is why you should always check the weight of the gimbal before buying the best gimbal for your DSLR.
2. Balancing
Balance is the most important aspect when you are buying a gimbal. There are 2 factors on which balance can be measured:
The balancing ability of a DSLR or Mirrorless camera by the gimbal.

The balancing ability of a Gimbal itself.
The more balanced a gimbal is the better quality image you will get without any problems.
3. Power Source
You should always use good quality lithium-ion batteries but if they are not available then the alkaline batteries will also work fine. It is best if the batteries coming along with the gimbal are rechargeable. Don't choose a gimbal without batteries as you will not be able to rotate it according to your free will with the push of a button.
4. Adjustability
Some gimbals are particularly designed for mobile phones while others are designed especially for DSLR and mirrorless cameras. 
You should select different gimbals for mobile and DSLR use as both of them have different functionalities. Just make sure that, if you are buying a gimbal for DSLR then it should fit multiple models and should not be designed for a particular model only.
Other than that also check that the gimbal is capable of setting it up in multiple ways so that it can accommodate different kinds of shooting styles.
5. Budget
Gimbals are not a cheap photography appliance, especially a good quality one from a renowned manufacturer. You will be able to easily distinguish between a cheap gimbal and a costly one as the number of functionalities will be more in an expensive gimbal.
The average price of a good gimbal for DSLR starts from 22000 rupees and can go as high as 1.5 lakh rupees.
6. Remote control
Modern gimbals also offer you a remote control feature where a user can control subject tracking, time-lapse feature, panorama mode, and much more. The price of a remote-controlled gimbal may be a bit high than an average gimbal.
FAQs related to best gimbals for DSLR.
How does a handheld gimbal stabilizer works?
A gimbal is a unique appliance when it comes to photography. It has intelligent sensors and it also uses a motor to balance your mirrorless or DSLR camera. 
The smart sensing technology detects undesirable camera shakes and with the help of a brushless motor the arm of the gimbal gets stabilized to keep the camera balanced.
Difference between a 2 axis and 3 axis gimbal for DSLR and mirrorless cameras?
There are a total of 3 axis used for pan, tilt, and roll when it comes to stabilizing a DSLR or mirrorless camera and these are
Yaw

Pitch

Roll
A 2 axis gimbal only stabilizes the camera on the pitch and roll axis. On the other hand, a 3 axis gimbal stabilizes the camera video on all 3 axis.
A little shakiness or jittery movement might be observed in a video shoot by using a 2-axis gimbal but a 3 axis gimbal greatly reduces the shakiness and sometimes eliminate the jitteriness due to the 3rd motor that absorbs any unwanted shakiness in the yaw axis.
The weight of a 3 axis gimbal is more than a 2 axis gimbal and a 3 axis gimbal also consumes more battery power due to the presence of an extra motor. Due to these reasons, a 3-axis gimbal stabilizer for DSLR and mirrorless cameras is more expensive than a 2 axis one.
If your ultimate goal is to do aerial photography then it is advised that you should go with a 3 axis gimbal as the phonesDSLRresults are way better than a 2 axis gimbal. It will help you in creating Bollywood grade professional films which is why it is chosen by many professional photographers.
You just need to remember to bring extra batteries along as a 3 axis gimbal consumes more battery faster than a 2 axis one other than that a 3 axis gimbal is superior to a 2 axis gimbal in any other way.
Best brands of Gimbal Stabilizers for DSLR and Mirrorless cameras?
The most famous ones are :
DJI

Zhiyun

Moza

Feiyu Tech

E-image horizon
There are a lot of other brands but you should go with the ones mentioned above as gimbals are not cheap and these brands create gimbals that have been tested through times.
Benefits of using a gimbal stabilizer for DSLR and camera?
The biggest advantage of a gimbal stabilizer for DSLR and cameras is that it is very light than a professional video stabilizer. You can carry them on the go and shoot shake-free videos.
Can a gimble be used for still photography for taking images?
Gimbals are specially designed for videos but some brands also offer a special tripod head to support the long and bulky camera lenses. Using these accessories you will be able to rotate and tilt the camera lens and they also stay balanced. Photo gimbal heads are best for wildlife and airshow photographers.
Can a gimbal also be used for a mobile phone?
For mobile phone and go pro cameras, there are specially designed gimbals that work as a super-powered selfie stick.  You read about them in this article Best gimbal for mobile phones in India.
---
Also read: Top 7 Best Gorillapod tripod for Phone & DSLR in India in 2021