Top 9 Best Smartphone Gimbal Stabilizers for Mobile Phones in India (2021) with buying guide
Gone are the days when people only used to shoot videos through their cameras. Nowadays our smartphones are capable of shooting high-quality 4K videos. During the shoot, there is always a margin for human error due to the shaking of hands and this can degrade the quality of your video. For this matter, you will be needing the help of the Best gimbal for a mobile phone which will help you to stabilize your video and gives you control over movements through the button present in the gimbal.
It doesn't matter which kind of smartphone you are using, whether it be an iPhone or an android phone we have got you covered. If you don't have any idea on how to select this 'superpowered selfie stick' aka Gimbal then you can go through our complete buying guide as well.
If you are serious about your Vlogging career then you will surely start your journey with a mobile phone but with the increasing need of the hour you will be shifting towards the DSLR and mirrorless camera and for that, you will be needing the best gimbal for DSLR at that point of time. But let's talk about the best gimbal stabilizers for mobile phones for now. 
Here is a list of the best gimbals for mobile phone:
DJI is a name that you can trust blindly when it comes to photography-related accessories. This gimbal offers a new foldable design and it is a 3-axis stabilized gimbals that comes with brushless motors to provide you a smooth and real-time experience to eliminate unwanted camera movements.
It is compatible with the latest smartphones from different manufacturers such as Samsung, One+, Xiaomi Mi, Google Pixel, Huawei, Honor, and many more. The dimensions it supports vary from range 62 to 88 mm in width. 
When unfolded its dimensions are 28.5×12.5×10.3 cms and weigh 405 grams. Apart from these features, it comes with 1 power cable, 1 storage pouch, 1 wrist strap, 4 anti-slip pad, 1 grip tripod from DJI OSMO, and 1 OSMO carrying case.
Pros
Works on lithium-ion batteries which need to be recharged when needed and offers amazing battery life.
Provides several predefined shooting modes such as Gesture Control, dolly zoom, panorama, slow motion, timelapse, hyper-lapse, sport mode, and story mode.
Lightweight and compact with a strong body with foldable design.
Easy to install and use
Cons
No swapping of cameras is allowed while recording.
If you are a new user then the initial app set-up takes time.
It does not offer 360 degrees rotation.
No magnetic attachment like the latest DJI OM4 version.
DDJI OM4 is the advanced version of DJI OSMO Mobile 3 and it offers some advanced features than the former. The most important feature of this particular gimbal is the magnetic phone clamp and magnetic ring holder which enables effortless capture. Your smartphone can be mounted instantly to DJI OM 4 for perfect video making on the go.
As per its other counterparts, this is also a 3-axis stabilized gimbal for your smartphone. You can also add an external lens to your phone and the added weight will not affect its performance. You can easily develop the so-called 'Hitchcock effect' a creative zoom shot that delivers a Hollywood-like quality video footage.
Whether you are trying to take a selfie or a group photo it is not necessary to push the button manually as you can do it remotely with just a simple gesture. An advanced Active track 3.0 feature that makes the focus on moving objects. This is a gimbal with all the latest features and is compatible with almost all the latest iPhones and Android phones.
With the gimbal, you will be getting 1 magnetic ring holder, 1 magnetic phone clamp, 1 power cable, 1 OSMO storage pouch, 1 wrist strap, and a manual.
The dimensions of this gimbal are 20.5×19.5×6.9 cms and the weight of this gimbal is 430 grams which is very light. It works with inbuilt rechargeable lithium-ion batteries that offer a 15-hour backup.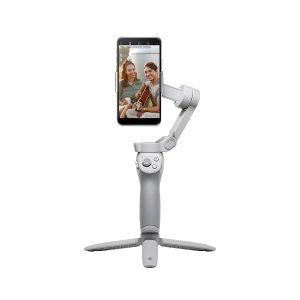 Pros
Latest magnetic mounting system.
Responsive and user-friendly app with preset actions such as story mode, dynamic zoom, Cloneme pano, gesture control, timelapse, etc.
The design is ergonomic, lightweight, and portable.
Easy to balance and Very responsive in tracking moving objects due to active track 3.0operate
Best gimbal for iPhone users as it is specially designed for them and its full functionality is obtained with iOS.
Cons
Doesn't work with a few larger cases and plus sized phones
No slow-mo feature for android phones.
You can control only two axis at a time.
Need to connect manually every time.
The DJI OSMO Mobile 2 is the predecessor of OSMO Mobile 3 and being a little bit older it is still the first choice for many. This is a handheld smartphone gimbal with all the basic requirements. Active Track technology helps you to track and follow a particular person.
The brushless motor ensures stability. With just 485 grams of weight and dimensions 15.7×30.5×8.9 cms, this is a very light gimbal that is easy to use.
It comes with a 2600 mAh lithium-ion rechargeable battery that lasts for up to 15 hours. It can charge your smartphone as well. With the app connectivity, you can control your gimbal through your smartphone.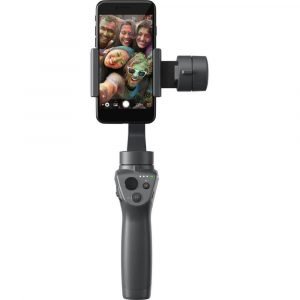 Pros
In-built present options such as time-lapse, Shoot blooming flowers and rolling clouds, a built-in zoom slider and you can even produce dolly zoom.
Compatible with almost all mobile phones whether it be iPhone or android.
Easy to set up and use.
Cons
No tripod feature.
You cannot swap cameras in the middle of recording.
No support for 4K as the maximum resolution OSMO Mobile 2 uses is 1080P
This is a completely different gimbal and also the smallest one available on the market. It is an extremely lightweight and portable gimbal with 3-axis stabilization designed by DJI. The new algorithm ensures and controls the accuracy of plus-minus 0.005 degrees with a maximum control speed of 120 degrees per second.
Despite its small size, it can also shoot videos in 4K at 60fps with 100 Mbps video and 12 MP image all thanks to a 1- 2.3 inch sensor and an 80-degree FOV with f/2.0 aperture
This mini gimbal comes with a carrying case, smartphone adapter with USB type C, and a lighting charge power cable. The average battery lasts for almost 2.3 hours which is made of in-built lithium-ion.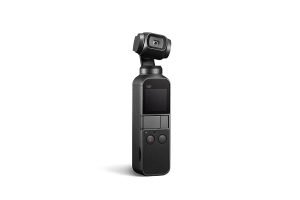 Pros
Very compact with dimensions 4.8×1.5×1.1 inches.
It is very light-weighted with only 116 grams.
Easy to use, no installation required. Although you can attach your phone with it if you want.
Compatible with almost all the latest mobile phones. You can connect your smartphone with the gimbal.
The video quality is good.
Cons
The price is very high.
For enhanced productivity and features you have to buy accessories which will make it more expensive than it already is.
It is not meant for rugged usage. You should go with a GoPro if you want ruff and tuff usage.
Battery life is just ok.
Lack of accessories in India.
Image quality is not so great when compared to video quality.
Gets hot while shooting in 4K mode for longer durations.
This gimbal for mobile phones from Hohem is a foldable handheld gimbal that can shoot with 7 one tap cinematic pre-defined templates on 3-axis stabilization. Different available modes are inception, dolly zoom, time-lapse, beauty filter, face tracking, etc.
The dimension of this gimbal is 7.62×3.81×17078 cms and its weight is only 259 grams which are very light. It comes with inbuilt lithium-ion batteries that have a capacity of 2000mAh and can last up to 8 hours and can be fully charged in 2 hours only and uses a USB type C port.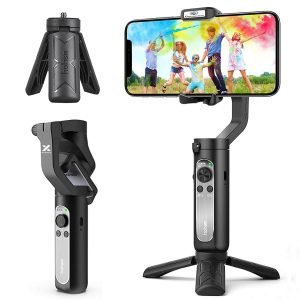 Pros
Very light and compact. Fits easily in your pocket.
Easy to use for beginners also.
Easily compatible with almost all the latest iPhones and Android phones.
Build quality of the device is very good and sturdy.
Comes with remote control and a tripod, which you can take out when needed.
Motors can also handle heavy loads such as iPhone 12 pro-Max with a case on.
Cons
The price is a bit on the higher side.
Carry pouch feels kind of cheap.
Motors can only handle 280 grams load so using it with a lens on can be a bit difficult to handle.
Battery life is short. (Only 2 hours).
Another great product from Hohem this gimbal offers a newly developed 3D inception mode that can vertically rotate your phone 360 degrees. It works on a high-performance motor with 3-axis speed adaptation and is extremely sensitive to hand movements to decrease the shakiness to an optimum level.
With multiple predefined modes, it allows you to shoot fast-moving actions such as sports, vlogs, interviews, documentaries, etc. The different kinds of pre-defined modes include slow-mo recording, beauty retouching, 360-degree panorama, face/object tracking, time-lapse recording, and panning mode changing, and these all can be accessed via the app.
The dimension of Hohem iSteady Mobile plus 3 axis handheld gimbal is 11.3×30.7×10.8 cms and weighs 730 grams. It is powered by in-built lithium-ion batteries that can last up to 12 hours and can also charge your smartphone.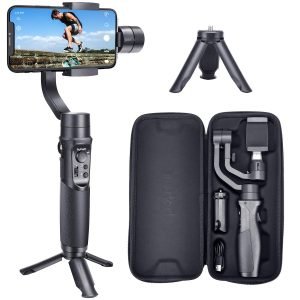 Pros
It comes with a foldable/detachable tripod.
Also offers a clip for LED light mounting.
Best for shooting videos in sport mode where the object is constantly in motion.
Compatible with almost all the models of iPhone and Android phones.
The price is also economical.
Cons
Some users have reported issues with connecting to the app.
Video recording and saving have also been an issue with some users.
Moza is another big name when it comes to photography-related appliances. This mobile gimbal is an extremely foldable appliance which makes it very easy to store and carry. The dimensions, while it's folded, are 5.12×2.68×7.68 inches, with a maximum payload of 260 grams. The weight of the gimbal is 500 grams.
A lot of predefined functions such as one-button zoom, focus control, quick playback, timelapse, object tracking, inception mode, etc for your smartphone. It is powered by an inbuilt lithium-ion battery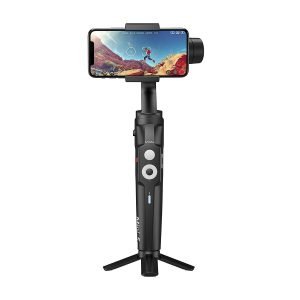 Pros
Easy to use and set up.
The build quality feels premium.
Very economical.
Offers 3-axis stabilization.
Good battery backup.
Cons
No complete 360-degree rotation on any axis.
Provides support to smaller phones which are up to 6 inches only, so if you have any plus-sized phone then this gimbal is not for you.
The mobile app is limited to record in 1080P at 30fps and in 720 up to 60fps.
This cheap gimbal for mobile phones and go pro cameras offer you a 3-axis stabilization which will help you to shoot stable videos. It allows a pan of 330 degrees and 325-degree tilt or all follow the pattern which provides you the ultimate experience for shooting a video. Several pre-defined shooting options such as face and object tracking, time-lapse, hyper-lapse, track lapse, etc.
The dimensions of this gimbal are 25.4×20.32×20.32 cms and weigh 500 grams. It requires 2 LR44 batteries which are included in the packaging and offers a long-lasting battery of 12 hours.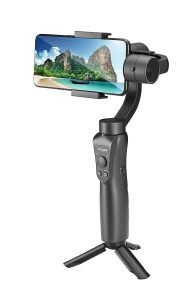 Pros
You can charge your phone while using the gimbal as a power bank during the shoot.
It comes with a detachable mini tripod that can come in quite handy.
Compatible with almost all sized smartphones whether they be an Android or iPhone.
The price is economical. It is a very cheap gimbal for a mobile phone at a low cost.
Cons
The zoom in and zoom out function is not so smooth.
Some users have reported issues in connecting to the app.
Not very handy for daily use according to some buyers.
Zhiyun is already famous worldwide for making the best quality gimbals for DSLR and mirrorless cameras and with a mobile gimbal as well they cannot go wrong. This 3-axis stabilized gimbal is a compact appliance for photography enthusiasts.
The dimensions of the device are 11.8×10.5×28.5 cms and weigh around 877 grams. It is powered by 2 inbuilt lithium-ion batteries that provide a good battery backup.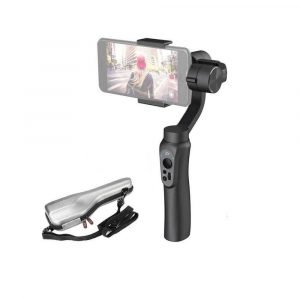 Pros
You can go with the extended package that offers go pro mount, a mini stand, and light.
Zhiyun is a renowned name in the market.
Best for small-sized phones.
The manufacturer also offers insurance apart from a warranty of 1 year.
Cons
The mini tripod that comes with the bundle package is not of great quality.
A bit complex to fit plus-size phones in it.
---
Final Verdict: Based on all the factors which we have mentioned in our buying guide below and all the features that are offered by the different manufacturers we have selected DJI Osmo Mobile 3 Combo – 3-Axis Smartphone Gimbal Handheld Stabilizer as the best smartphone gimbal for mobile phone whether it be an iPhone or an android phone.
Remember buying the best gimbal does not give you the power and knowledge to shoot an amazing video, it is the practice that makes you an awesome filmmaker. A gimbal does adds to your productivity but it also requires some professional skills that take some time to acquire.
---
Buying guide for selecting the Best gimbal for mobile phone
Things you need to consider before buying the best gimbal for your smartphone
Apart from keeping your videos away from shakiness and keeping them stabilized a handheld gimbal for mobile can up your game in the field of video making. Today is an era where many short video platforms such as youtube shorts, TikTokfull-on youtube tutorials as well people are making full-time money.
For shooting a steady video you will be needing a good gimbal for your phone and here are the things which you need to keep in mind before buying the best gimbal for your mobile phone:
Axis Stabilization
The most important reason a person buys a gimbal is to make shake-free videos and the best kind of stabilization is provided by a 3 axis gimbal. A 3-axis gimbal balances your phone on all the 3 axes: Tilt, Pan, and Roll, whereas a 2 axis gimbal only stabilizes the Tilt and Roll. Coming towards the price the 2-axis gimbals are cheaper but the 3-axis ones are much more effective while shooting moving video footage.
2. Power Source
Some gimbals for mobile phones use alkaline batteries which need to be replaced after they are drained out. Other than that there are gimbals that run on lithium-ion batteries that need to be recharged when drained out. Lithium-ion batteries have a lower run time but prove to be cheaper in the long run.
3. Weight
It becomes quite difficult to hold a gimbal in your hand in a single position if you are going to shoot for long hours and it would become much more difficult if the weight of the gimbal is too much. That is why selecting a gimbal that has a minimal weight and is made up of superior quality material.
4. Supported Operating system/Software
Gimbals can get connected to your mobile phones which further allows them to increase the output and quality of the video and images by increasing usability. But some gimbals are compatible only with particular operating systems, hence always check the compatibility of the gimbal with your device with which you want it to pair. If you don't have an iPhone and you buy a gimbal that is compatible with iOS only then it would be of no use to you.
5. Automated Modes
Many gimbals now come with preprogrammed shooting modes which makes shooting time-lapse and dolly zoom videos very simple. The modern gimbal can also track a moving object autonomously.
6. Good Customer service
Having good customer service for any product can be a complete game-changer. Many famous brands such as DJI and Zhiyun offer very good customer support and you should also go with a manufacturer that offers great customer service because, in the end, it is an electronic device and problems can strike without warning anytime.
7. Warranty
A year-long warranty needs to be considered by a user while selecting the best gimbal for their smartphone and all the renowned names in the industry offer the same or more.
8. App Connectivity
Modern gimbals for phones whether they be an iPhone or an android offers app connectivity so that a user can easily connect their phone to their gimbal for accessing all the buttons which are available on the phone.
9. User-friendly button control
Some gimbals for mobile phones have a few number buttons and some of them have more but the purpose should be clear and most of the button settings are easily accessible through the apps which can be installed on the phones.
10. Ergonomic Design
The gimbal has 2 parts. One the handle which is held by the user during the shoot and the upper part to hold your phone. The gimbal should be light in weight and the grip of the gimbal should be easier to hold for longer shooting hours.
11. Accessories and carrying case
This is a nice thing to have but they are not necessary. These accessories might include a carrying case and a small tripod and other such small accessories.
12. Insurance
Not all manufacturers offer insurance but a few of them that has a renowned name in the market do offer insurance at some additional cost. 
13. Brand
The best brands available when it comes to select the best gimbal for a mobile phone whether it be your Android phone or your iPhone are:
DJI

Zhiyun

Moza

Hohem

Digitek, etc.
There are a lot of other models also available in the market but these are the most famous ones.
---
Also read:
Top 10 Best Camera Gimbal stabilizers for DSLR and Mirrorless Camera In India (2021) with complete buying guide. 
Top 7 Best Gorillapod tripod for Phone & DSLR in India in 2021