Top 7 Best Bean bag Chair in India in 2021: With and without beans
Bean bags have become a trending choice over the household and even offices. They come in a variety of colors shapes size depending upon their usage. The best bean bag in India for your home use or your office depends on the type of usage. They are affordable, comfortable, and cozy.
Depending upon the reviews and usage we have selected the best bean bag according to brands.
Best bean Bag Chair in India with and without beans
Product Description:
This product is a chair type pear-shaped bean bag whose dimensions are 59x59x87(LxBxH) (in Cm)

The material used: Leatherette

Beans required: 1.5 kilograms to fill it up ( beans are not provided with the product )

Best for playing video games and watching tv.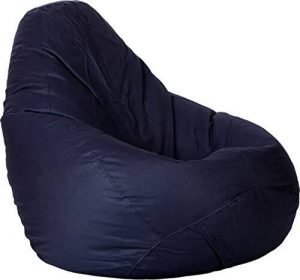 Product Description:
This is a lounge-type bean bag with dimensions 107x64x91 (LxBxH) (in Cm) ( available in other sizes as well ).

The material used: Leatherette

Beans required: at least 2 kilograms of beans for the biggest size.

Sofa cum bed type bean bag which is great for a relaxing day near your pool or being a couch potato.
Product Description:
This is a bean bag chair which also comes with a bean bag stool for your legs while enjoying television.

Dimensions are 30x30x29 for the chair and for the pouffe or stool it is 12×17.5×17.5

The material used: Faux Leather

Beans required: 3.5 kilograms for a chair (minimum) and 0.5 kilograms for pouffe.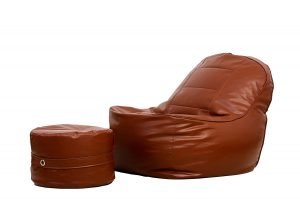 Product Description:
Chair type pear-shaped bean bag with beans (1 bag filled) with dimension 44x 29(inch) (height x base)

The material used: Leatherette.

Beans required: 2 kilograms of beans.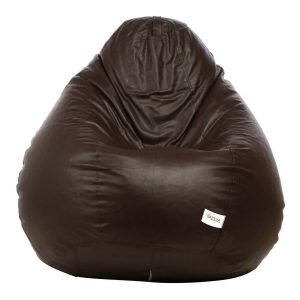 Product Description:
Chair type bean bag cover with dimensions 127x127x117 ( in cm) 

The material used: Leatherette

Double protection with a zipper to prevent beans from spilling.

Beans required: 2 to 2.5 kilograms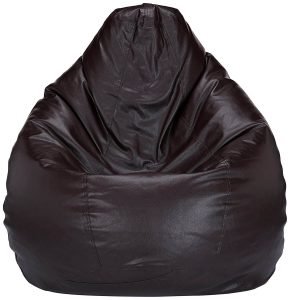 Product Description:
This is a chair type bean bag chair with a high back with dimensions 42×24 (inch) HxW

The material used: Washable artificial leather.

Best for kids and playroom or it also looks good in your living room and bedroom.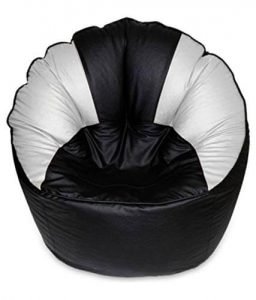 Product Description:
Chair type bean bag with beans which comes in multiple sizes according to your need.

The material used: Artificial leather

Beans required: 2.5 kilograms.

The bean bag has velcro at the bottom whereas the footstool has a zipper at the bottom to hold the beans.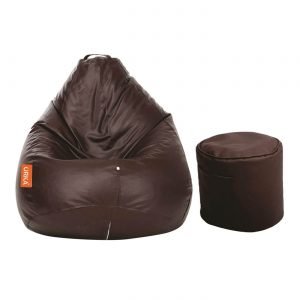 ---
Points to consider before buying a bean bag.
Inside and outside bean bags
First, we have to understand what does an inside or outside bean bag means.
In the inside bean bag, there is a bag that is actually covered with an outer bag. The bag which is inside contains the beans which are made up of polystyrene. So don't just select a bean bag based on appearance. Both inside and outside bean bags have their advantage and disadvantage. For eg if your bean bag is an outside bean bag and it experiences a tear then all the beans will be spilled everywhere and if you have animals or small kids at your home then it can prove to be dangerous. However on the other hand if you are using an outside bean bag and it gets dirty then it will become very easy for you to take the cover out and wash it. 
2. Bean bag shape and size.
The shape of your bean bag should be chosen according to your needs only. Bean bags come into a variety of designs like :
Bean bag chair

Retro bean bags

Sofa Bed Bean Bags

Cough bean bags

Slab bean bags

Lounger bean bags

Wedgie bean bags etc.
The most popular type is the pear-shaped bean bag chair or a Razzy which has a handle to pick it up and move accordingly. Other shapes that give a feel of a more rigid furniture type look are mostly used for the living room. The height of the back also provides you back support.
3. The fabric is used to make the bean bag.
Fabric is also an important factor when it comes to buying a bean bag to which most people do not consider. Most of the bean bags are made from soft polyester, which is mostly used indoors, or artificial leather which is suitable for both indoors and outdoors. If you have pets in your home then you should go with artificial leather as it reduces the chance of tear. Another type of material which is available in the market is the damp-proof or waterproof material which has been coated with a special layer to stop the absorption of liquids.
Ideally, a bean bag should be made from 2 strong fabrics and that is elastic textile inside the bag which is filled with beans and outside bag covering that can be washed as per needs.
4. Beads or beans used in bean bags.
Many types of beads are available in the market like:
Ground polystyrene foam

Expanded Polystyrene beads

Buckwheat grains.
From the above-mentioned polystyrene beads, the Expanded polystyrene beads or EPS is the most durable and also check for the beads if they are inflammable and also have a certificate to prove it.
5. Indoor or outdoor usage: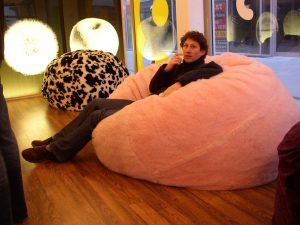 Depending upon the functionality it is recommended to choose your bean bag. For eg if you are using your bean bag near the pool, lakeshore, terrace, or outside the yard then it is advisable to choose a bean bag that is made up of waterproof material. If you are going to use it only for indoor purposes then you can select bean bags with cloth coverings as well.
6.Locking system: stitches and zippers
A very important factor to consider while buying a bean bag is the type of locking mechanism it uses to hold the beads in or the inner cover. It can be stitches that are mostly used in the outside type system. Make sure there are double stitches if you are buying a bean bag with stitches so that the beans won't come out.
Another kind of bag is the zipper type which is mostly used for outside covers and you can easily separate the inner and outer layers. Make sure the zipper locks are hidden under the fabric so that they do not scratch against the floor.
7. If you buy a bean bag without beans then how many beans are required to fill it up?
Bean bags come in different shapes and sizes and the amount of bean bags required is directly proportional to the size of the bean bag for example the average beans required to fill a bean bag of size XXL or above is at least 2.25 kilograms and for XL and L it will be 1.5 to 1 kilograms and for bean bags of size M, it requires less than one kilograms of beans.
Remember fill up your bean bag almost 2/3rd of its capacity as it will be ideal for maximum comfort and not burst as well.
8. Uses of bean bags:
Different types of bean bags can be used for different purposes. Some designs are best suited for indoor use only and others are used for outdoors as well as indoors.
Bean bags can be put outside your swimming pool.

You can also place your bean bag in your office as well, this will help you to get rid of a stiff back and long hours of work.

You can also use a bean bag while playing video games with your friends on a weekend.

Being light in weight and without any sharp edges it will be comfortable for your kids as well, you can put it in the living room and carry it anywhere in the house according to your needs.
9. Can you wash a bean bag?
Of course yes but it can be machine washed or manually washed that cannot be said for sure as you cannot wash a leathery structure in a washing machine, that will ruin it. Before buying read the instructions carefully on how to wash the bean bag.
10. How long should a good bean bag last?
The average life of a bean bag is 3 to 4 years but if handled with care it can last up to 5 years or more. Even if it starts to getting flat all you have to do is order some beans and fill them in the bean bag and you are good to go for another couple of years provided your outer lining is not damaged.
---
Final Verdict: Best bean bag in India for personal use is Amazon Brand – Solimo XXXL Bean Bag Cover Without Beans.
Also read:
Top 10 Best Geyser in India in 2021 for Bathroom: Reviews and Buying Guide
Top 10 Best Vacuum Cleaner for Home in India in 2021: Reviews and Buying Guide