How To Make Kadha for Cough and Cold
In these pandemic times where we are daily getting news of our near and dear ones getting infected the only thing that we can do right now is get ourselves immune to this Virus. Drinking Kadha can be very useful in increasing the immunity power of our body and if you don't know how to make kadha for cough and cold then don't worry you will find the complete guide here.
You might have also seen the Prime Minister of India Sh. Narendra Modiji in his speech on 14th October 2021 advising people to drink kadha and make it a natural habit in their day-to-day life. Now in our In Indian culture, the Kadha word is not new. You must have seen the elderly and your mother even drinking or serving it whenever somebody in your family gets sick. So the question arises on how to make kadha for cough and cold.
The answer is simple, it has many ways but the basic idea is to put some herbs in boiling water and then drink the filtered herb-infused water to get the richness and power of herbs. Now what kind of kadha you need depends on the kind of problem that you are having.
For example, if you are making kadha for cough and cold then the ingredients will include:- clean water, Basil (Tulsi), Long (clove), black pepper (Kali- Mirch), Ginger, brown sugar (Gud), some Bishop's seed (Ajwain), and large cardamom( Badi Elaichi)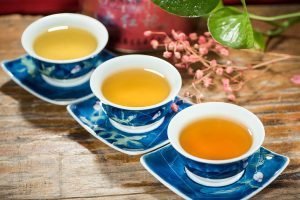 How to make kadha for cough and cold:- 
Clean up all the ingredients after that boil the water in a clean utensil and put all the ingredients except brown sugar in the boiling water.

Boil for 5 minutes and add brown sugar to the solution.( make sure the quantity of brown sugar or gud is not too much

Shut down the burner and let it cool down to a temperature where it becomes a bit suitable for drinking and it is advisable to drink it while it's still hot.
Kadha is also known as Decoction in English. According to Ayurveda Kadha has many benefits like:-
It boosts your immunity and regular intake keeps your body warm which prevents you from cough cold and fever.

It also soothes our throat and gives relief in case of a cough.

Drinking Kadha also improves our ability to fight viruses and bacteria as well.
Sadly there is no evidence that Kadha for coronavirus is useful or not but we can be sure of one thing that kadha does improve our immunity power and even if the Covid-19 virus attacks our bodies then it can save us from the dreadful effects.
You can also create a kadha for Coronavirus using tulsi and some ingredients from the kitchen like cardamom (elaichi) powder.
Ingredients:-
4-5 basil leaves

½ teaspoon cardamom powder.

¼ teaspoon black pepper

1-inch ginger

3-4 dry grapes (munakka) 
If some ingredients are not available then you can add whatever of these available and boil them together to make a refreshing tea or kadha which will help you out in fighting corona and also provide relief in dehydration.
Some people also drink Giloy Kadha. If you are wondering now how to make giloy kadha then don't worry it is very easy. Simply add the giloy stem pieces into boiling hot water and then the solution which is formed after boiling the water will be very beneficial.
Also, read. –3 Amazing Giloy Benefits for weight loss, hair and skin India 2021
Benefits of Kadha not only include increased immunity but it also helps in improving our digestive system and also detoxifies our body.
The black pepper in the kadha helps in taking the excess cough out of our body and the basil and ginger powder have anti-inflammatory properties. The holy Basil also has anti-microbial properties which help in the reduction of diseases related to a respiratory disorder. It is advised to have this mix whenever you feel congestion in your throat or flu-like symptoms.
Dosage: how many cups of kadha can you have in a single day.
Side effects of Kadha:
If you are drinking kadha daily for boosting your immunity power then this could also lead to problems for you as well but that also depends on person to person on their age sex and health. If you are having any problem after drinking kadha juice then kindly stop consuming it immediately. Some of the common side effects of drinking kadha daily are:-
Gastric problems in the stomach and acidity.

Blood flow from nasal cavities and dryness.

Ulcer in the mouth.

Production of acid and indigestion problems.

Frequent urination and Dysuria (burning sensation in urine)
These problems might arise due to the nature of things that are used in the making of kadha like black pepper, ginger, giloy, etc. The nature of these ingredients is hot and can lead to the problems mentioned above.
Apart from making kadha for immunity booster purposes, you can also have it for other problems related to body ache, fever cough, and cold as well.
A tulsi tea is also a desi kadha which you can have every day and also makes you feel energetic and help in getting rid of body pain and headache as well.
Ingredients required are :
¼ cup tulsi leaves ( The holy Indian Basil )

2 tsp Lemon juice
Method:
In a 1 ½ cup of boiling water put tulsi leaves in a non-stick pan and boil it for about 10 minutes while stirring constantly.

Filter the excess leaves and take the water out using a sieve.

Add lemon juice to the mixture.

Consume it while it's still warm.
Other benefits of Kadha:
If you are having a cough with mucus ( Balgam wali khansi ) then drinking kadha not only soothes you immediately but also provides you increased immunity power to fight the disease whether it be a normal flu or be covid-19.

Boosts immunity of the body.

Proven beneficial in fighting the covid-19 virus as well.

Gives you instant relief in cough and cold.

Also helps you in getting a good night's sleep as the ingredients used in kadha boost the sleeping hormones.
Note: It is advisable to have a glass of kadha in a 2-day interval.
If you don't want to go through the hassle of making the kadha daily then you can also select some of the handpicked best kadha for immunity-boosting in India in 2021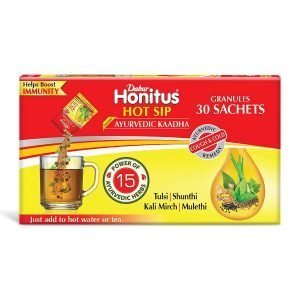 1st one on our list is Dabur honitus Hot sip ayurvedic kadha which provides the first line of defense against cough and cold.
This product is very easy to use quick to make and suitable for all ages, especially children.
Dabur honitus hot sip is a unique blend of 15 powerful ayurvedic herbs including shunthi, kantakari, and tulsi combined with honey to give you a potent and effective natural formulation for effective relief from cough and cold. Just stir it in hot water, drink and experience the goodness of Ayurveda.
How to use:-
Just add one sachet to a cup of hot and boiling water, the granules dissolve quickly providing you a freshly prepared kadha without leaving any lumps behind
The taste is mildly sweet and spicy. You can say that it is quite similar to the "Chukku Coffee" in South-India.
Gives you immediate and long-lasting relief. It contains a few sugar crystals to mellow down the taste so if you are diabetic drink it accordingly. The best part is it comes in small sachets so ease of access is a great factor.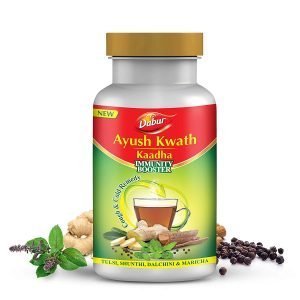 2nd on our list is Dabur Ayush Kwasth Kadha which helps in boosting immunity and is beneficial for treating nasal, throat, or respiratory issues. and also beneficial in cough and cold-related problems as well.
It also contains the goodness of multiple ayurvedic products which also helps in improving digestion as well.
Dabur Ayush Kwath Kaadha combines the rich experience of Dabur with the Goodness of Tulsi, Ginger, Pepper, and Dalchini that are attributed to various health benefits. Dabur Ayush Kwath Kaadha is a 100% Ayurvedic Immunity Booster product which works as a cough and cold remedy that helps build immunity and also improves digestion.
Key features of Dabur Ayush kwaath kaadha:
First of all, it's Ayurvedic in nature, so no need to worry about any side effects.

Consists of all the herbal ingredients such as tulsi, ginger, etc., which are beneficial to keep ourselves fit and healthy.

It helps in boosting immunity and combating cold, cough, and sore throat.

Enhances the process of digestion.

Beneficial for the nasal, throat, and respiratory health.

Dabur brand in itself stands for quality.
 During these uncertain times of ongoing pandemic, this product provides us the power to fight the deadly coronavirus.  This kwath kaada has 4 main ingredients such as tulsi, dalchini, shunthi, and maricha which helps boost immunity and gives relief from cold, cough, and mainly sore throat
It is very easy to use. Add half tablespoon of kaada in 150 ml water(1 cup) and boil for 5 min and you are done. U can also add lemon, honey, jaggery as per your taste.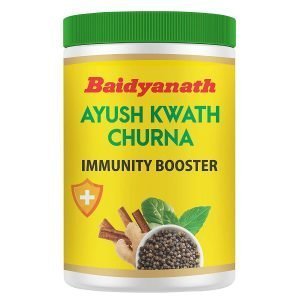 How can we not mention the baidyanath Ayush kwash churna when we are talking about the kadha. It helps in the first line of defense. It is an ayurvedic formulation which boosts the immunity levels and helps improve the body's defense mechanism.
How to use:
Baidyanath Ayush Kwath Churna is a GMP certified product which you can consume twice daily like tea by adding 1 tbsp in 150 ml of boiled water. You can also add jaggery, lemon juice, and raisins for better taste.
Baidyanath Ayush Kwath Churna is a complete ayurvedic formulation made from powerful ingredients like Tulsi, Dalchini, Sonth, Krishna Marich that help boost the immunity levels and help in fighting common infections like cold and cough. This churn helps in building the body's resistance against the onslaught of pathogens.
A very good and healthy replacement for tea. It is a powerful product, but the sandy residue leaves a bad taste you might have to filter it, but if done, the effectiveness of the contents is minimized contains a cocktail of valuable and powerful herbs.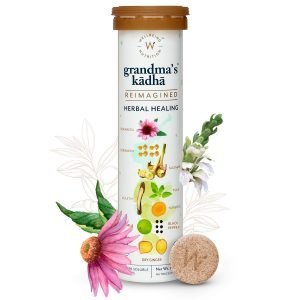 Organic Certified Ayurvedic Kadha for Immunity, Herbal Remedy for Cold, Cough, Flu, Sore Throat, Congestion. 
Now, this product comes in tablet form.
How to use:
Just drop and dissolve an effervescent tablet in 250ml hot water for 1-2 minutes and experience the grandmas secret magic remedy on the go! 100% organic and made up of natural ayurvedic, healing ingredients, and lots of love. Contains no added colors, sugars, flavors, or preservatives.
Making grandmas kadha a part of your daily self-care ritual will have numerous benefits leading to wholesome health such as natural immunity booster, relieves sore throat, congestion and cold symptoms, fight flu and infections, reduces inflammation and protects lung tissues, antiviral and anti-bacterial, stimulates digestion, relieves headache and pain, advance immunity support, improve immunity and stamina and also has antioxidant properties.
Safety Information:
Do not consume the tablet directly.
Storage: Store in a dry, ventilated place at a temperature below 25° C.
Ingredients:
Echinacea, Kulinjan, Coriander seeds, Tulsi, Mulethi, Turmeric, Amla, Ginger, Black Pepper, Shankapushpi, Kalmegh, Bharangi, Adulsa, Citric Acid (INS330), Sodium Bicarbonate (INS500), PVP K30, Stevia extract.
Directions:
Maximum 2 tabs per day for adults and 1 tab per day for kids between 8-12 years.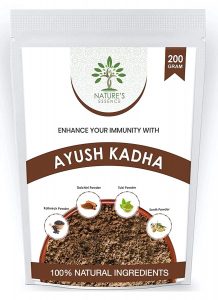 This Kadha powder includes the goodness of black pepper ( Kali Mirch ), Tulsi, Cinnamon ( Dalchini ), Dry ginger ( Sonth )
You Can also use this to detox and immunity tea, detox kahwa tea, herbal tea, ginger tea, and it is considered to be one of the oldest and most potent forms of remedy for various purposes. It will protect and strengthen you from within, boost your immunity
How to use: Boil 250ml water and add 1/2 tbs. of Ayush Kadha Powder, keep boiling for 10 minutes then strain and drink.
Made with Tulsi Powder, Dalchini Powder ( Cinnamon Powder ), Sonth Powder ( Dry Ginger Powder ), Kalimirch Powder ( Black Pepper Powder ). Exact Ingredients Ratio
Ingredients:
Black pepper, Dry Ginger, Tulsi, Cinnamon
Nature's Essence Ayush Kadha is made with natural ingredients. 
This Kadha powder includes the goodness of black pepper ( Kali Mirch ), Tulsi, Cinnamon ( Dalchini ), Dry ginger ( Sonth ), that helps to fight with cold, cough, flu and boost immunity.
A great, palatable kadha from the Ministry of Ayush, India. Provides relief to the throat. Nicest of packaging, without needing to be transferred to a container.
Also Read:-
1.Benefits of Ashwagandha for Hair, skin, sex, & for weight loss and gain
2.Uses of Turmeric for Acne and Pimple: Benefits of Turmeric on Skin and other benefits.