9 Best Glucometer in India for home use with buying guide (2021)
According to Wikipedia, approx 8.9% of the total population of India is suffering from diabetes. That is approximately 77 million, which is a lot. You can easily find a diabetic person in a family nowadays and in order to keep a check on Diabetes Mellitus (Scientific name of diabetes), we require the best glucometer in India.
People who are suffering from sugar and wherever they pee, ants gathered upon their urine. Cuts and bruises take a lot of time to heal. 
With the ongoing Covid situation as well people with sugar or heart-related issues are suffering more, which makes it critical to keep a check on their sugar levels.
But diabetes is nothing you can not take care of. Just remember to take your medicines on time and keep checking your sugar levels using a good glucometer at your home.
If you don't how to select the best glucometer for home use in India then you can go through our quick buying guide at the end of this paragraph.
List of Top 9 Best Glucometer in India for home use: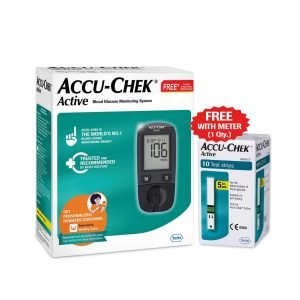 The first product on our list is the Accu-Chek active blood glucose meter kit.
This is an automatic glucometer which means no coding required. It can be easily operated with only two buttons.
You can easily match the color code to the displayed result for assuring accuracy.
If you have applied an insufficient amount of blood then the device gives you approximately 10 seconds to re-dose it.
Accu-check also comes with post and pre-meal markers and also gives you a visual and audio post-prandial reminder that allows you to test two hours after you had your meal.
The measuring interval is 10-600 mg/dL.
Pros
Double-check the displayed result feature.
No coding required.
8-seconds re-dose option.
Pre and Post meal markers.
You can easily store up to 500 test results and get an average of the last 7/14/30 or even 90 days.
USB interface for data transfer.
10 free strips.
Large display, compact box, lancets, and all other basic features available.
Cons
The testing window of 90 seconds is very low and the strip goes to waste after that.
Runs on batteries, not rechargeable.
Costly test strips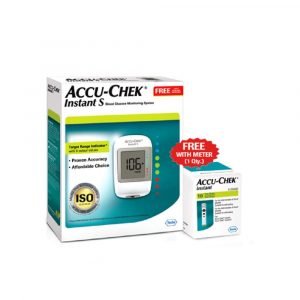 Another good product from Accu-Check is the instant S glucometer.
It comes with a visual reassurance with a target range indicator. A large screen that shows only relevant results.
You can also view your average results for 7/30/90 days as well.
It has a large dosing window and can be dosed along the edge and automatically absorbs blood from the patient's finger.
The Accu-check Softclix lancing pen provides virtually pain-free testing.
It gives results in less than 4 seconds.
Pros
Large dosing window.
Easy to use as it works only with 1 button.
Easy USB data transfer with PC connection.
Fast results.
10 free test strips.
The softclix lancet holder makes the pricking very easy.
Cons
Costly test strips.
Runs on batteries, not rechargeable.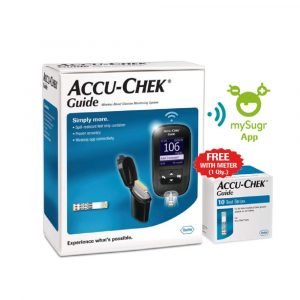 This is the third glucometer from Accu-check also known as guide glucometer.
The special thing about this glucometer is that it automatically logs results right to an app( mySugr diabetes management app) on your smartphone.
It provides accurate results. It is easy to use and spill-resistant, you have to place a small drop of blood anywhere on the end of the strip.
Easy to see during day or night due to strip port-light and a push-button to eject the used strips so you don't have to touch the used ones.
Pros
Smartphone connectivity and data transfer via an application using BlueTooth.
10 free test strips.
Spill-resistant and easy to use.
Push-button strip ejector
Large display.
Provides estimated HbA1C.
Accurate results.
The Accu-check Softclix lancet gives a pain-free experience.
Cons
Costly
Test strips are also expensive.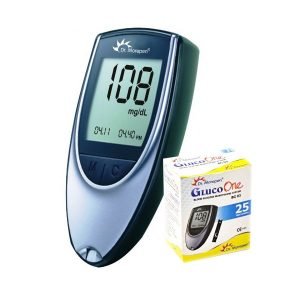 The next on our list is the Dr.Morepen GlucoOne Blood Glucose monitor. The model is BG 03(1).
It has a very sleek and ergonomic design. It is based on a biosensor and has an easily readable large display.
This is an automatic glucometer, thus does not require any coding. It is very easy to use and uses as low as 0.5 ul blood for sugar testing.
The kit comes with a glucometer, 25 test strips, 10 disposable lancets, 1 pen-shaped lancing device, and one box to keep these items.
It is one of the best and cheapest glucometers available in the Indian market.
Pros
Very economic price and used by thousands of people.
Large display and ergonomic design.
No coding required.
Only 0.5 ul of blood required for sugar testing.
Accurate results.
Beeper alert.
10 free lancets, 25 free test strips, and the price of test strips are also low.
Can store up to 300 test results and gives you an average of 7/14/31 days.
Cons
Runs on battery.
The blood needs to be dosed on the strip within 100 seconds after it is put inside the glucometer otherwise it will go to waste.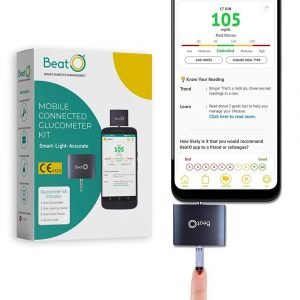 This is a unique and advanced glucometer that can be connected with your smartphone using a 3.5mm jack.
It is quite easy to carry and works seamlessly fine with Android devices and iPhones.
The glucometer gets connected to the feature-rich BeatO app where you can store the readings and see the trends through simple graphs.
It has an automatic alert system that sends a message to important people and keeps them informed when the reading shows any abnormality.
The packaging contains a glucometer with a 3.5mm connector, needles, lancing pen, strips, carry pouch, and manual.
This glucometer here can be a start of advanced medical equipment and devices.
Pros
Long battery life of 3 years or up to 4000 tests.
Saves readings automatically on the app and views trends.
Compact design.
Get instant diabetes specialist advice.
Send alerts to doctors and family members if you have too high or low readings.
50 lancets and 50 test strips free with the device.
Easy to use with smartphone connectivity.
Affordable price.
Cons
You will see a lot of campaigning forcing you to upsell diet plans and other stuff.
It cannot work without the internet if any updates are pending.
To use the Beato application you have to provide your mobile number which can be used by their team for irritating upsell calls.
The app is available in Hindi and English only.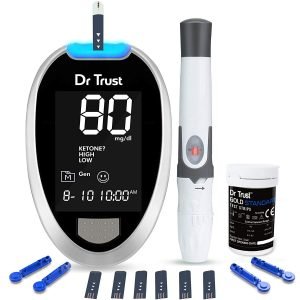 Dr. Trust's fully automatic blood sugar testing glucometer comes with a large display that shows a number of functions with a smiley indicator.
The smiley indicator shows the sugar value range.
The device warns the patient if the ketone level reaches over 13 mol/L which can lead to diabetic ketoacidosis.
It can store up to 1000 results and gives an average of 7/14/31 days. 
The glucometer also provides alternate site testing which means your fingers can rest now. You can use other body parts for sugar testing.
The strip ejector technology minimizes the risk of contagion.
Its unit of measurement can be changed from Mg/dL to mmol/L.
The device also comes with a 4 alarm setting to remind you to take your sugar tests.
Pros
Alternate site settings
Strip ejection button.
Large display with ergonomic design and backlight.
Smiley indicator to give you an immediate idea about your sugar level.
Requires only 0.5 ul blood.
10 free strips
GDH-FAD strip enzyme technology avoids interference from blood oxygen variations.
Affordable price and Dr. Trust's test strips are also cheaper than other brands.
Cons
The alarm sound is very low.
Runs on batteries only, not rechargeable.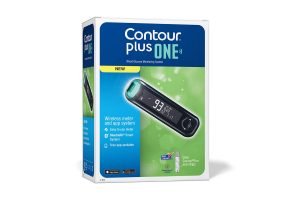 Contour is a renowned name when it comes to the best glucometer in India.
This glucometer gives a second chance at sampling within 60 seconds with high accuracy even on the second attempt thus saving the wastage of strips.
The smart light feature alerts patients on high or critically low blood sugar levels.
The glucometer can be connected via Bluetooth with the Contour diabetes app.
It can help you to set reminders for checking your glucose levels and appointments to your doctor.
Pros
800 results memory
Most accurate results.
Contour diabetes app connectivity helps in permanent connections to the database results which enable to record test results.
Fast results.
25 multicolour free test strips.
The test strips have a long expiry date of almost 24 months, unlike other brand test strips which expire in 90 days.
Compact design with smartphone connectivity and easy to use.
Cons
Slightly expensive.
The test strips are a bit expensive than other brands.
Only 5 lancets are provided with the packaging.
The battery backup is not so promising.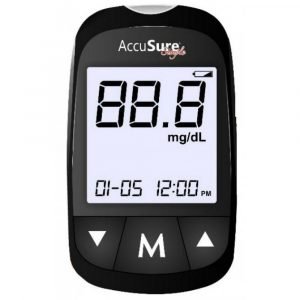 The Accusure simple glucometer works the same as per its name. It is very simple to use.
The appliance comes with a test light indicator with an LCD backlight display.
It can store up to 1000 test results and can also be connected with a PC. 
The blood sample required is very tiny.
The glucometer can be preset before and after the meal.
It has a strip ejection mechanism for minimizing the danger of contagion.
Pros
Large display screen with backlit display and test light indicator.
Strip ejector mechanism.
Require a very small quantity of blood for testing.
Affordable price.
Less pain due to alternative site testing. You can finally give rest to your finger.
Ketone warning function.
Before/After meal Preset.
25 free multicolour test strips.
Cons
Only 10 lancet needles are provided along with the packaging.
Runs only on batteries, not rechargeable.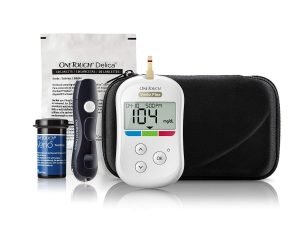 Another good product from One touch is the Verio Flex meter whose One-touch smartphone connectivity and reveal app changes the way you see your blood sugar.
Your test results get synced seamlessly in the logbook which shows you the data in the form of quick visuals and draws a timeline of important blood sugar events.
The app also highlights when you have been repeatedly out of range.
You can also share your data with your family, friends, and physician as well.
The testing strips use precious metals such as gold and palladium to give you accurate and fast results just with a 0.4ul of the blood drop.
Pros
The colour coding of green blue and red gives a quick overview of your sugar levels.
Smartphone Bluetooth connectivity makes it very easy to use.
Accurate results.
Easy to operate and shows you the data in a much simpler form on your mobile as well.
A very small drop of blood is required.
10 free testing strips.
Cons
The cost is a bit high.
The strips are not widely available at retail pharmacies and chemists.
---
Final Thought:
It can be a bit overwhelming when it comes to selecting the best glucometer in India as everyone has different needs. That is why we have selected 3 glucometers which are best according to their category.
Best & Cheapest glucometer in India:- Dr. Morepen Gluco One
Best accurate glucometer in India:-  Contour Plus One
Best Smartphone compatible glucometer in India:- Beato Smart Glucometer
---
Things you need to consider before buying the best glucometer in India:
The testing time of an average glucometer to give the results varies from 5 to 15 seconds. You should select one which takes the least time to give you the results if you have to check your sugar 2-3 times a day.
Modern glucometers require only 1ml to 0.5 ml of your blood. That is almost equal to a drop of blood. In earlier times the blood required was more but that is not a necessity now.
It comes in quite handy if your glucometer has some kind of storage capacity. Some glucometers offer you to store a few hundred results or give you an average of the last 15-30 days as well.
Doctors also recommend keeping a check on the glucose activity of your body. Some modern glucometer also offers an app or computer connectivity where you can download the reports.
It gives you the freedom to send the downloaded reports to your physician as per requirements.
Flags or markers allow you to keep a track of the time when the reading was taken.
Physicians advise some patients to check their sugar levels before and after having lunch or in the morning and evening.
This feature gives a clear picture to your physician by providing the data of two different times.
As the name suggests automatic models are the ones that do not require any setup and code the details of the glucometer test strips automatically.
In manual one, you have to do the coding manually by putting in the details.
Automatic ones are the best choice.
A sharp needle or knife which can be used to prick your finger for the blood sample is known as a lancet.
Modern lancets are designed in a way that they don't cause too much pain when the sample is taken.
Almost all brands provide their own lancet with the glucometer kit.
A few glucometers run on batteries while others are rechargeable.
The rechargeable ones are good for 1000-1500 readings after that you have to charge the appliance again. You have to change the batteries in a battery-powered device.
Most people prefer the rechargeable one as it costs less in the long run and you don't have to go through the hassle of changing the batteries when they run out.
In order to find accurate results, it is advised to take 15-20 readings and if the average is nearby to every record then you can assume the glucometer is accurate.
If you have any doubts about the appliance then it is advised that you should look for customer reviews online for that particular product.
As per FDA regulations, a good glucometer's reading should be:
95% values should lie within +/- 12% for blood sugar below or above 75 ml/dL.

98% within +/- 15%
Some smart glucometers can be connected to your phone via an application where the readings, meal logs, and insulin needs can be synced.
If the app detects any anomaly it will also send a notification on your phone as well.
For a diabetic person, a glucometer is a device that needs to be used daily. 
That is why the size of the glucometer and the kit should be small enough that it becomes easy to carry and store during travels and the display is large enough to read properly.
Almost all glucometers have a digital display because they only need to show readings.
Every renowned brand gives you a warranty of 1 to 5 years depending upon the manufacturer.
Smart glucometers can now send a beeping sound or notification on your phone to remind you to check your sugar levels.
There are some glucometers available in the market which offers an audio speaker for people who cannot see.
A good glucometer starts from Rs 800 and can go as high as Rs 3500.
Our recommendation is to select one which provides accurate results. This is the main thing that you need to focus on.
Benefits of purchasing a glucometer
Purchasing a glucometer has many benefits such as:
It saves a visit to the doctor.

Very easy and convenient to use.

Can be used anywhere.

Quick and reliable.

Cheap way to keep a track of your glucose level.
Drawbacks of purchasing a glucometer
There are some drawbacks of using a glucometer at home as well:
Some patients are afraid of the needle which a glucometer needs for prickling.

Regular prickling can cause finger pains.
The medical equipment developers are working on this and as soon as a glucometer is available which does not require your finger to be prickled you will find about it on our website.
Best Glucometer brand in India
Some best glucometer brands available in India are:
Dr. Morepen

Dr. Trust

Accu-chek

Onetouch

Accusure

Contour TS

Beato, etc.
FAQs related to the best glucometer in India for home use.
How to use a glucometer to check blood sugar?
A Glucometer works on the principle of measuring the level of glucose in a person's blood.
If you are a first time user then follow the steps below:
Clean your hands and prepare the kit.

After turning the glucometer on insert the testing strip in the small slot.

Using the lancet prick your finger gently and squeeze lightly to take a drop of blood out.

Put the drop of blood on the already inserted test strip.

Wipe away any remaining blood using sterilized cotton or tissue.

Wait for 10-15 seconds and note the reading down.
Does using a glucometer require a prescription?
Different diabetic patients have different requirements and it is recommended that you should use a glucometer with the prescription of a doctor.
Some people need to check it only once a day while others have to check it 3-4 times a day.
So only a trained physician can tell you what's best for your health.
How do you know if you need to purchase a glucometer?
You actually don't unless you face any problems related to diabetes.
If your readings are more than 100 mg/dL before the meal and 140 ml/dL after the meal then after consultation with a doctor you can use a glucometer at your home and do not worry it is 100% safe as it does not have any side effects.
How many times glucometer strips and lancet can be used?
Only once. You should not reuse a lancet or a testing strip as they have been exposed to blood and it can cause many side effects and infections.
After using a test strip and lancet throw it in the dustbin and use a new one every day.
Which finger is best to test blood sugar?
According to WHO recommendation using your middle or ring finger (2nd and 3rd finger) is the best practice for testing sugar levels and using your glucometer.
Try to avoid the pinky finger as the skin is thin on it.
How long to wait after eating to check blood sugar?
It is advisable to wait for at least 1 to 2 hours after you had your lunch.
The reason behind this is if you check the sugar level of a normal person just after he had his meal then it will show higher than the normal.
What should be the Normal blood sugar 1 hour after eating?
The normal blood sugar levels are different for every person depending upon their age and body type and the conditions they are in. For better clarification you can refer to the tables given below:
For adults aged 18+ and above
| | |
| --- | --- |
| Diet type | Blood sugar level ( in mg/dL ) |
| Before meal | 70-130 (between) |
| After meal | <180 (less than 180) |
| During Bed-time | 100-140 (between) |
| Fasting | <100 (less than 100) |
For Pregnant Women
| | |
| --- | --- |
| Diet type | Blood sugar level ( in mg/dL ) |
| Before meal | 70-100 |
| After meal | 120-140 |
| During Bed-time | 110-200 |
| Fasting | 60-95 (between) |
For Children aged 6+ years
| | |
| --- | --- |
| Diet type | Blood sugar level ( in mg/dL ) |
| Before meal | 90-130 (between) |
| After meal | 130-180 (between) |
| During Bed-time | 110-200 (between) |
| Fasting | 80-180 (between) |
Can 2 patients use the same glucometer?
If you have multiple diabetic patients in your family then you can use one glucometer after wiping it clean.
Remember to not use the same lancet or already used test strips.
How to maintain a glucometer?
Maintaining a glucometer is not exactly rocket science.
All you have to do is keep some small but important things in mind such as:
Glucometers should be air-dried after every use.

If a glucometer is used by multiple users then it should be wiped clean between every patient.

Wipe all surfaces.

It should be kept in humid-free conditions within a carrying box or kit.
If you follow the steps above a good glucometer should last for at least 1-2 years. Some are even seen to last for up to 5 years as well.
Why glucometer reading is high sometimes and low other times?
There could be a number of reasons for inaccurate glucose readings such as:
The test strip is not inserted correctly.

The batteries are low and the appliance is running out of juice.

Some impurities might have mixed with your samples such as oil, dust, or alcohol as you have not washed your hands.

Not enough blood applied on the test strips.

Some models require a code for the test strip which needs to be entered manually.

Some strips are not compatible with your glucometer model.

Different weather conditions can also affect the readings as well. That's the reason a glucometer comes with measures that need to be taken during different weather conditions.
If you have tried all the above-mentioned methods then try consulting a doctor. 
You can also try reaching the manufacturer via customer care number or email them and ask them to replace the appliance.
Few words of advice
The use of sugary substances has become a trend in our day-to-day lives. Due to these unhealthy practices, more than 400 million adults get affected by this chronic disease every year.
All you need is to keep the best glucometer for home use in India handy to keep a check on this disease after consulting with your doctor.
We have seen people who have lived nearly 100 years with diabetes because they were taking their medicines regularly and keeping a track of their sugar level using the best sugar testing machine they can find as per their requirements.
They have not taken this chronic illness lightly and took proper measures, and you can also do the same. It's not something too harsh. 
All it takes is just a little willpower and carefulness.
---