Top 6 Best Room Heater in India in 2021: Reviews & buying guide
If you are looking for the best room heater in India in 2021 then based on honest user review and research we bring you the best 6 room heaters with fan blowers:-
Best Room Heater in India in 2021
Product Features:-
It has a powerful 2400 rpm copper winded motor for quick heating.
It should be used with a 16 Amp plug.
The warranty on this appliance is of 1-year.
It throws the air to a distance of 10 feet which is perfect for a small or medium room.
Also comes a thermostat regulator that changes heating power.
It is very lightweight(1.15kg) so it can be carried everywhere easily.
Also, have overheat protection.
Power consumption: 2000 watts, Operating voltage is 220-240 volts. It is a 2-kilowatt heater and consumes 2 units every hour.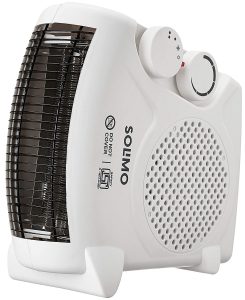 Product Features:-
It comes with two heat settings of 1000 and 2000 watts.
For safety, it has an auto thermal cutout.
It is made up of PVC and its weight is 1.74 kilograms.
Can be used as a fan in summer and a heat convector in winters also.
It comes with a 2-year warranty.
Product Features:-
It is useful for a small or medium room of up to 150 sq ft as it is designed for spot heating.
It has a thermostat with three heating settings of 665,1330 and 2000 watts and a two fan speed.
It's a bit on the heavy side as the weight is 4 kilograms and it comes with a warranty of 1 year.
Also has an auto-cut feature to ensure safety and handle for portability and also has a night light indicator.
USHA is a brand that we have seen since we were born.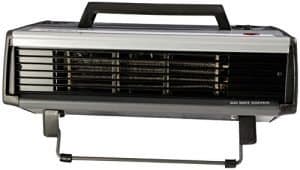 It is ideal for small or medium rooms up to 250 sq ft.
A 3 pin plug is required with 15 Amp or a 5-15 Amp converting extension cord.
It has two heat setting of 1000 and 2000 watts and a thermal cut off for added safety.
The exterior is designed such that the outer body always feels cool to touch to ensure maximum safety with an inbuilt handle for portability.
It comes with a one year warranty.
Product Features:-
It is ideal for a small or medium room of 250 sq ft.
It has a safety auto cut feature from overheat protection.
Two heat settings of 1000 and 2000 watts.
Can also be used as a fan in the summer season.
The weight of the appliance is 1.3 kilograms.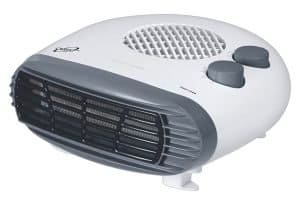 Product Features:-
It has two heat settings 1000 and 2000 watts and an adjustable thermostat for desirable temperature.
It can also serve as a fan in the summer season.
Lazer home appliances are trustworthy and especially heaters we have seen since our childhood.
---
Our choice:-

Go with Orpat OEH-1260 2000-Watt Fan Heater as it is a very good heater with stylish looks and average power consumption and also has a good length power cable.
---
A Fan room heater or blower works on the principle of convection. The coil inside the heater is used for heating purposes and then a fan is placed behind the coil is used to throw the heated air out of the heater into the room. Now if we talk about the best way to heat up a room quickly is using these convection room heaters as the hot air spreads quickly inside the room. They can be a bit noisy but not so much. Try to avoid them in humid conditions as it is not safe. Their price is also very affordable.
Factors you should keep in mind while looking for the best room heater fan blower in India in 2021:-
Cost:-You should always go with a good brand while choosing a room heater. They are not too costly. A good heater might cost you a few hundred to a couple of thousand rupees.
Energy consumption. Electricity consumption plays a major role when it comes to devices that are used for heating or cooling purposes. So always make sure to check the device's Electricity consumption before buying the product.
Effective heating. It should have enough power to warm up a room quickly and effectively. For eg., An ideal room heater should be able to heat a room of 200 sq. ft within a power consumption limit of 2000 watts.
Ease of mobility:- Check the length of the power cable and the distance between the socket where you want to install the room heater. But it is a device which can be carried easily so it should have some kind of handle to have ease of portability.
Safety:-Always go with a product that has good reviews about safety. These types of heavy-duty electric devices are known to give electric shocks. There have been many cases in the past. So purchase the best room heater fan blower from a recognized dealer only. As far as safety is concerned if you are able to get an electric heater with a self-stopping timer that would be great.
You are living in 2021 and especially in northern India, the chilly winds are excruciating. So check out all the points above and when you finally come to a decision then you can also go with the selection of a design as many designer room heaters are available in India in 2021 now.
Fan heaters warm the air around them making us feel more comfortable in a cold environment. Using a fan-heater you can roam around the room easily as the air is warmed up inside the entire room keeping the room a bit warm even after it is turned off. But do not leave your fan heater unattended as it can lead to a fire hazard and one of the main reasons you should not leave your room heater on while sleeping. It can be hazardous in a closed room. Also, keep children and pets away from electric heaters to avoid any accidents.
---
Also read:-
Top 10 Best Geyser in India in 2021 for Bathroom: Reviews and Buying Guide
6 Best Electric Kettle in India: Brandwise comparison